Assessing the status and trends of net zero target setting across countries, sub-national governments and companies.
Net zero is the dominant lens through which countries, states and regions, cities and companies approach decarbonisation. With global coverage of net zero nearly universal at the national level now, the big question is whether a sufficient proportion of targets across the wider economy acquire measures of robustness quickly enough to keep the Paris Agreement 1.5°C target within reach.
The Net Zero Stocktake 2022 report — our first comprehensive analysis since Taking Stock over a year ago — shows that target-setting momentum continues and measures of quality are improving, but also that an alarming lack of credibility pervades the entire landscape.

For this report, we drew upon our Net Zero Tracker database of 4,000+ entities, of which we found that 1,181 (including the EU) have net zero targets. Courtesy of the fact that 19 members of the G20 have now signed on, the net zero targets of national governments represent the overwhelming bulk of the global economy and greenhouse gas emissions.
Report highlights:
Encouragingly, national net zero targets set in domestic legislation or policy documents have surged — from 10% of total GHG coverage in December 2020 to 65% in June 2022.
As countries keep setting - and strengthening - commitments, the spotlight falls on those companies (65%), regions (84%) and cities (80%) that are yet to pledge net zero targets.
Worryingly, more than 75% of national and sub-national governments still do not transparently specify whether they intend to use external offset credits to meet their net zero targets.
Using the Race to Zero 'starting line' criteria as our benchmark—a minimum threshold that is necessary but by no means sufficient—we found that fewer than one-fifth of net zero targets set by national and sub-national governments currently meet minimum procedural standards of robustness.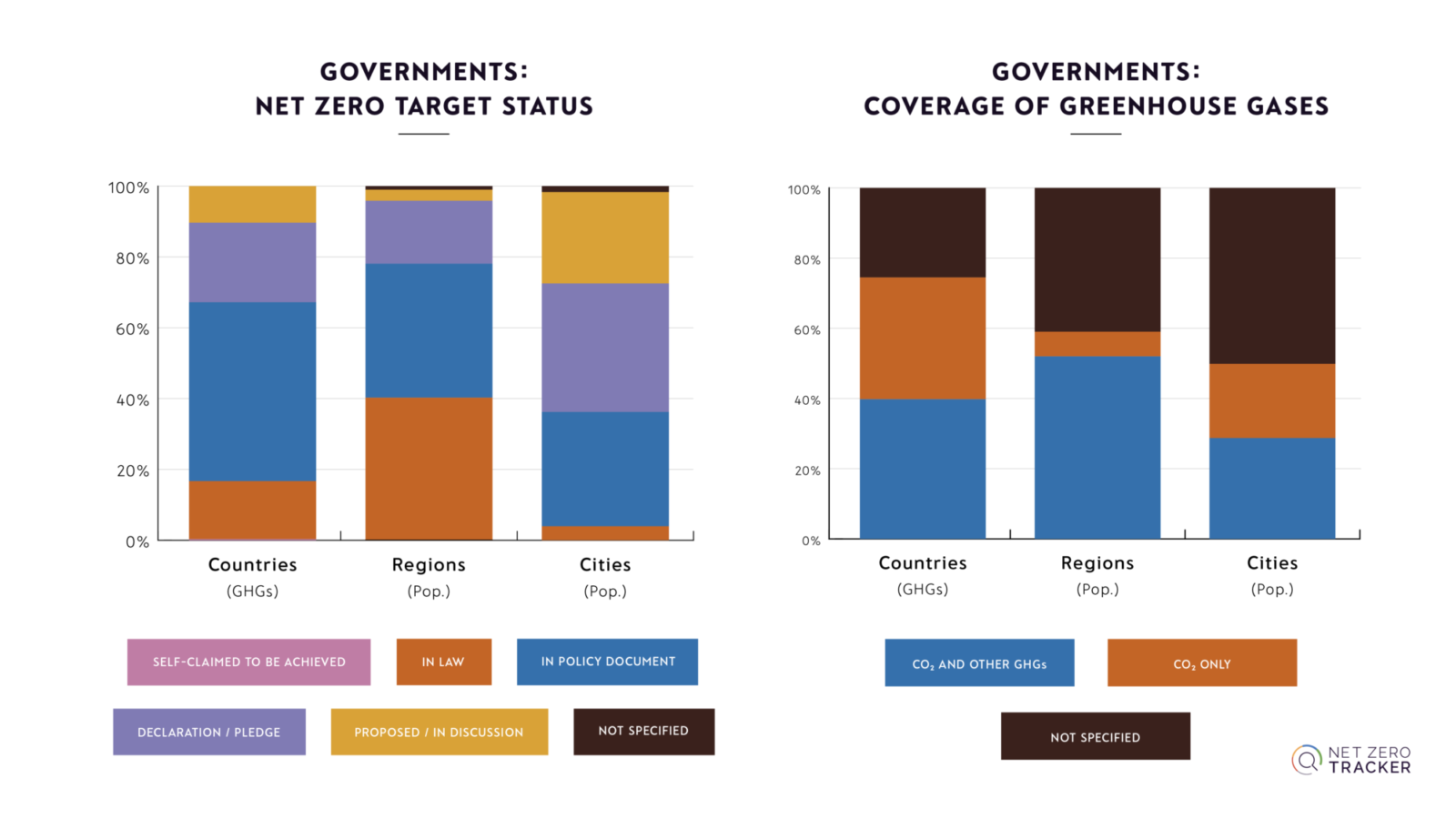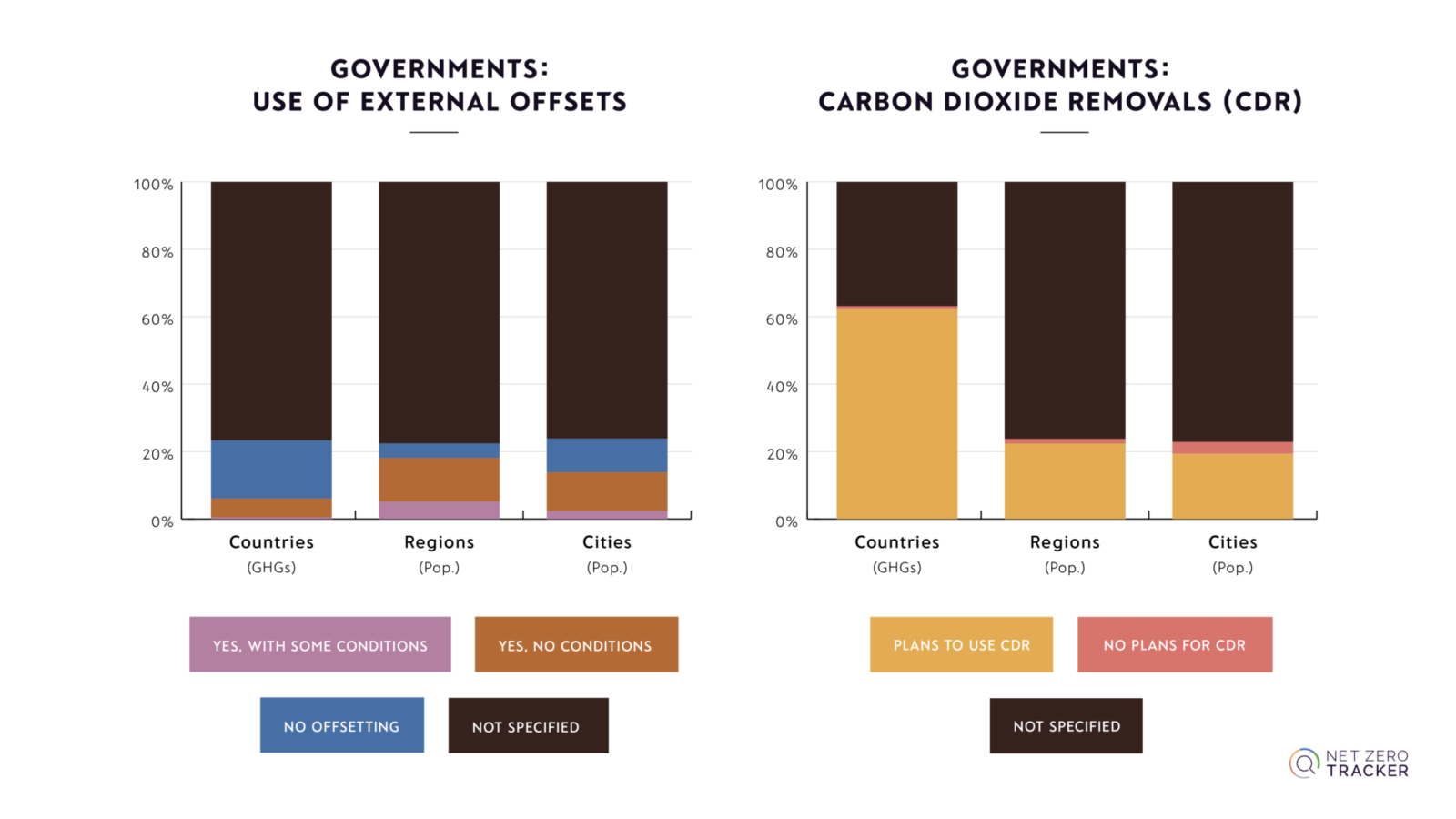 More than one-third of world's largest publicly traded companies now have net zero targets, up from one-fifth in December 2020. However, 65% of corporate net zero targets do not yet meet minimum procedural standards of robustness.
Nearly 40% of the companies intend to use external offsets (carbon credits) to achieve net zero, with less than 2% explicitly ruling out their use. That leaves close to 60% that have not specified whether or not they plan to rely on offsetting.
Only 38% of companies claim to cover all Scope 3 (value chain) emissions.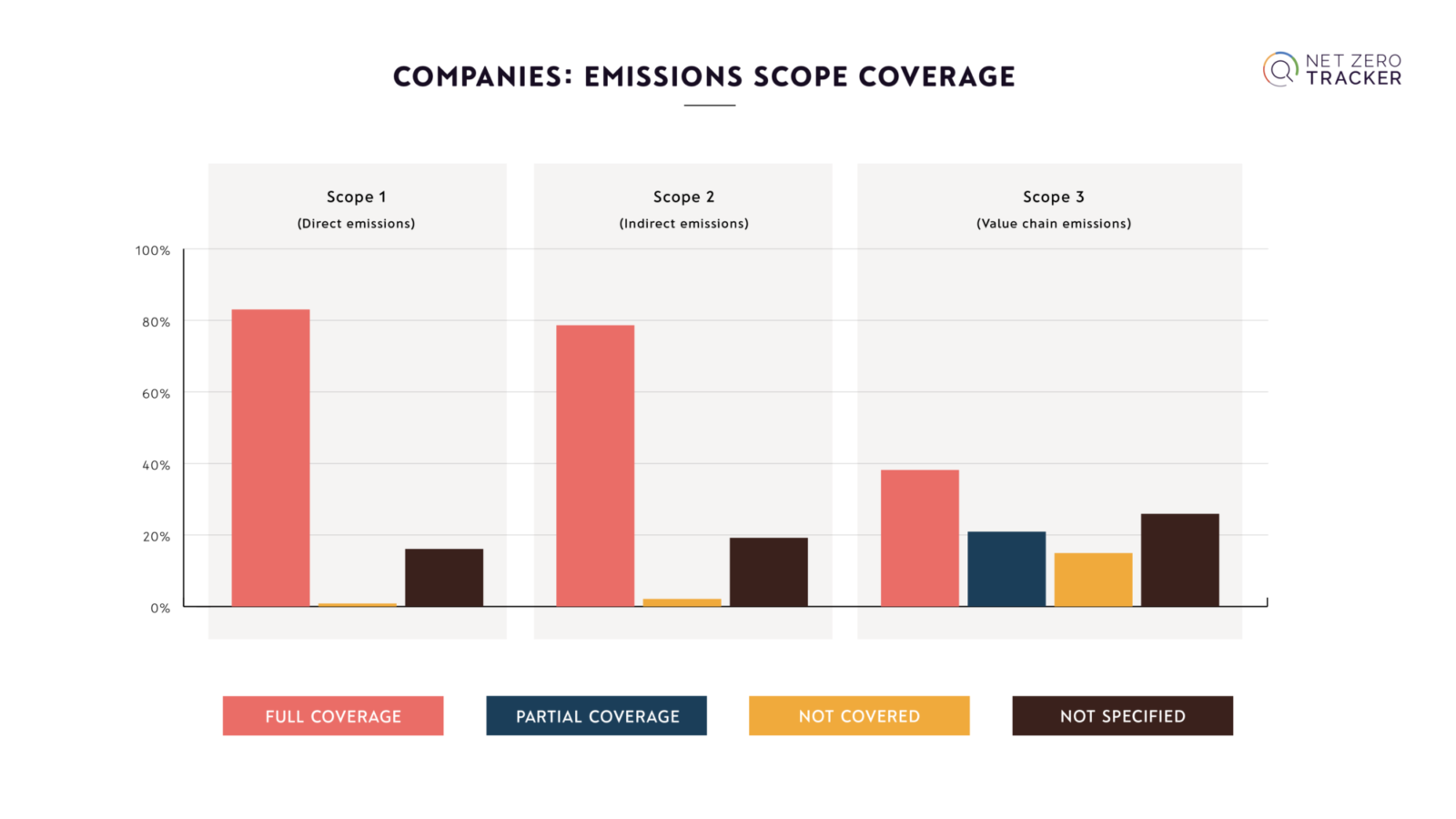 The global North has set the majority of sub-national targets. Net zero has not yet spread widely beyond high-income countries in North America, Europe, and Asia.
The number of large cities with net zero targets has doubled since December 2020 — from 115 to 235 — but more than 900 large cities still lack a net zero target.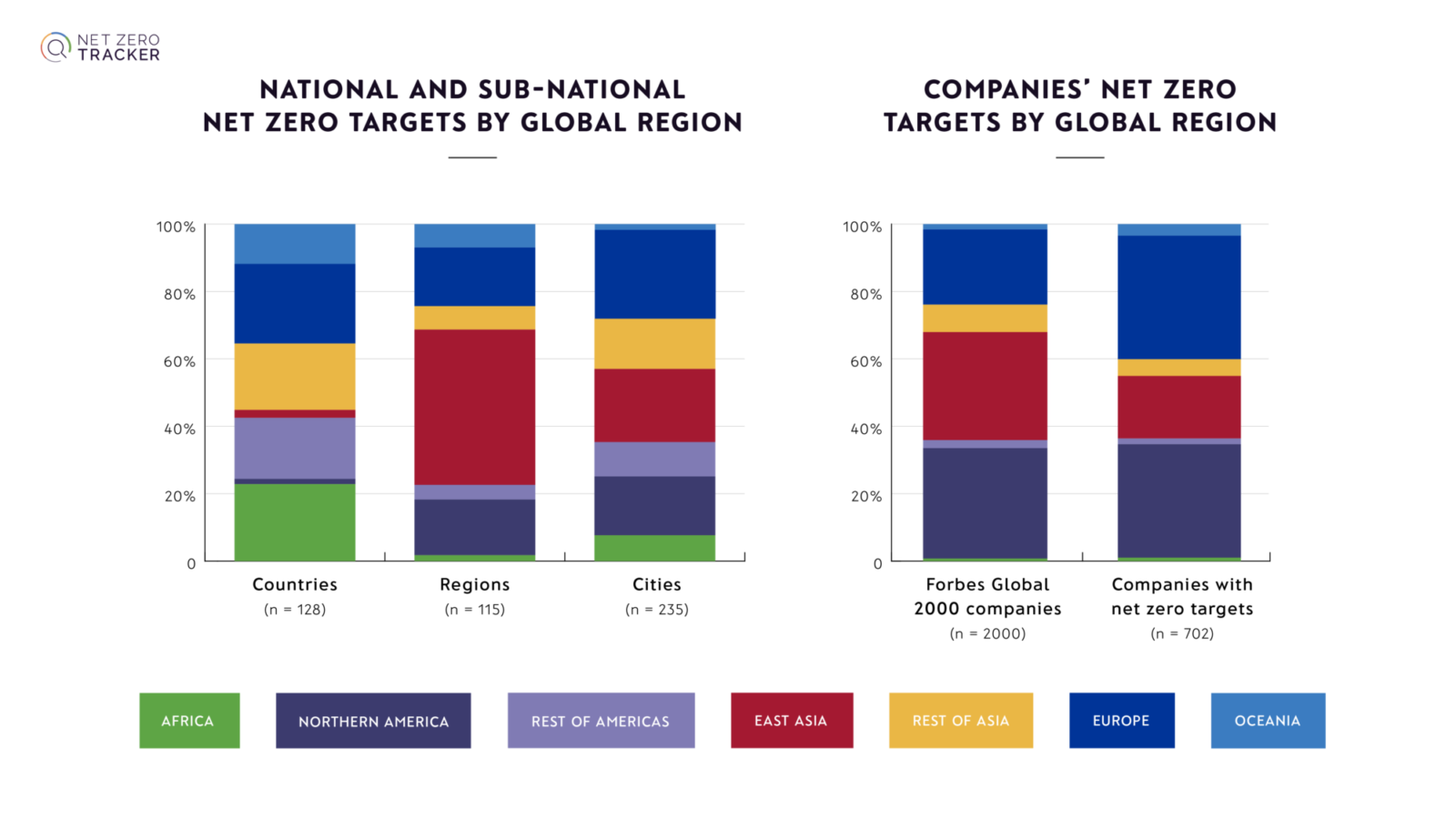 The Fossil Fuels industry has the second highest percentage of net zero targets (49%) among those industries with more than ten companies in the Forbes 2000 list. The sectors with the third and fourth highest percentages, respectively, are also GHG-intensive: the Materials industry (e.g. steel and cement) and Transportation Services (e.g. airlines and shipping).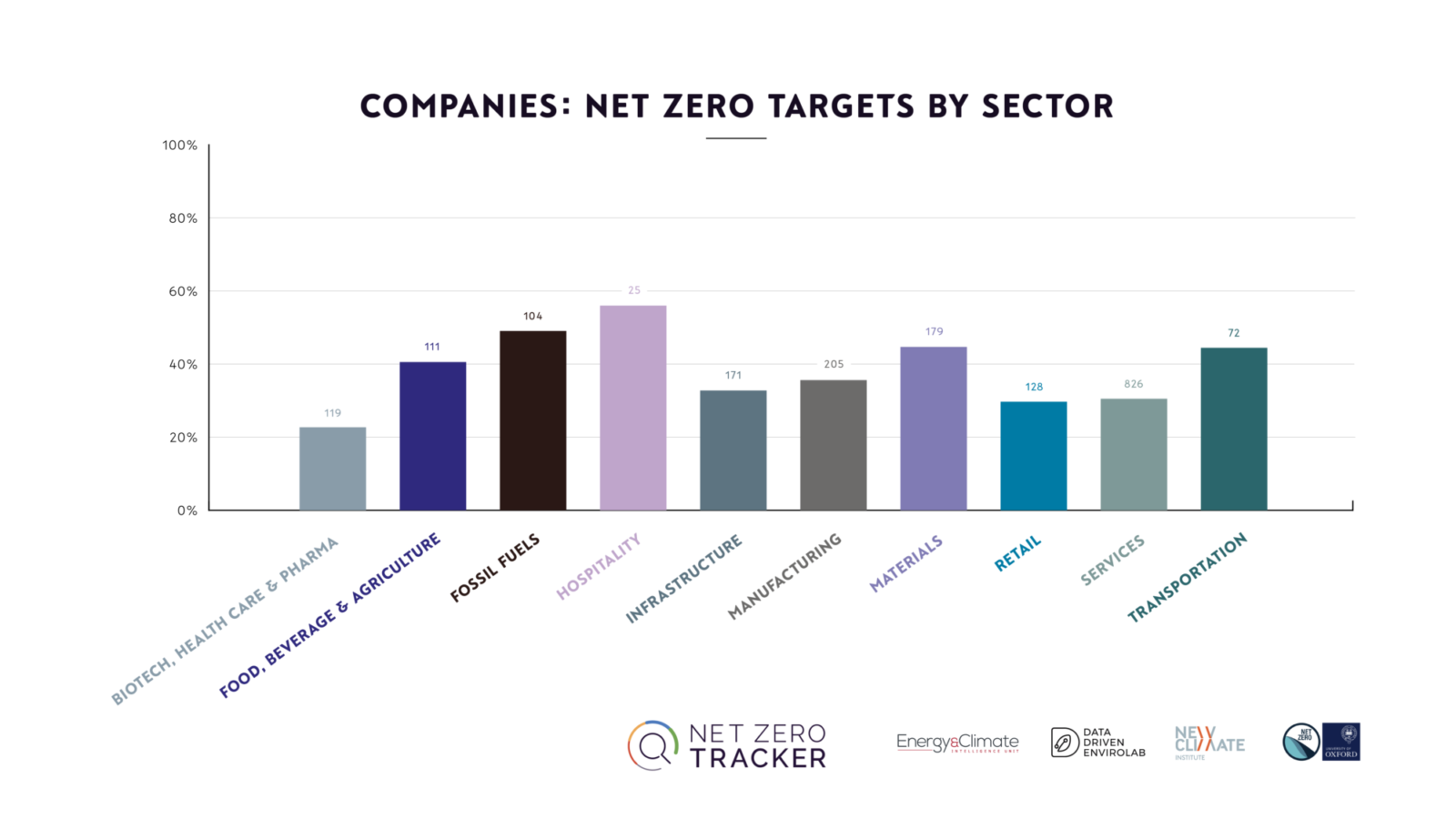 Among the 702 Forbes 2000-listed companies with net zero targets, the largest *number* of companies are headquartered in the US (210), followed by Japan (89), the UK (57), France (40) and Germany (33).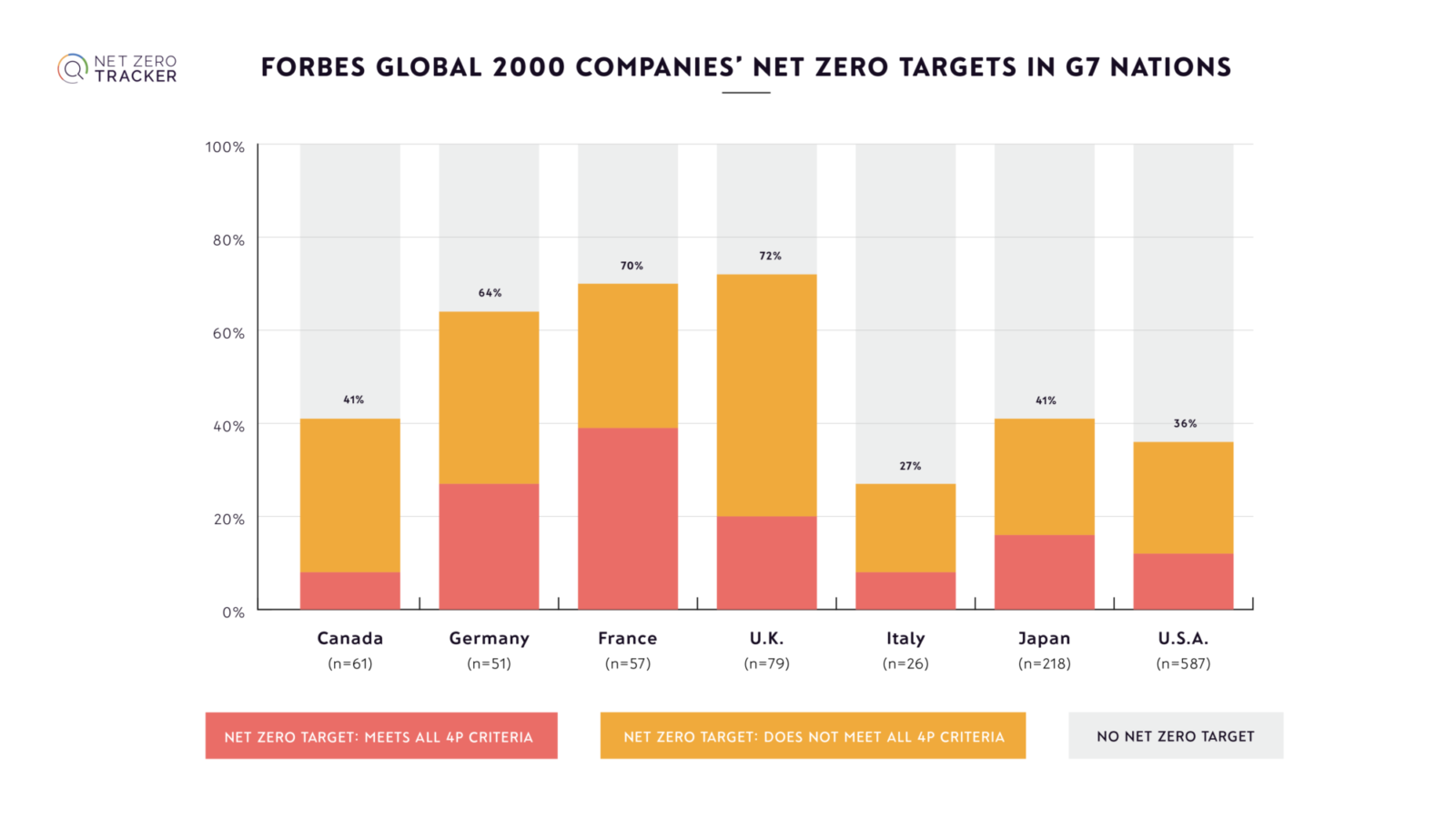 The recent wave of corporate long-term target setting has been accompanied by an increasing number of analyses and methodologies to assess or verify such targets. We outline a selection of these, including the SBTi Net-Zero Standard and the Climate Corporate Responsibility Monitor (CCRM).
As scrutiny grows and the shadow of regulation lengthens, increasingly those companies without credible targets should become outliers. Civil society, researchers, and policymakers are getting better at separating genuine from greenwash, so gone are the days when misleading net zero targets will not be found out.
As our analysis shows, overall the transparency and integrity of existing net zero pledges are far from sufficient to ensure a timely transition to global net zero GHG emissions to achieve the Paris Agreement's long-term temperature goal. Across the board, an enormous need for greater standardisation and operationalisation of net zero targets is needed.
The UN Secretary-General's High-Level Expert Group on the Net-Zero Emissions Commitments of Non-State Entities, launched in March 2022, provides an important opportunity to accelerate the robust operationalisation of net zero targets at the sub-national and corporate level.
For cities, regions, and countries in the Global South, capacity building and access to finance is going to be critical for transforming net zero pledges into concrete commitments and plans. For the private sector, regulation will ultimately be needed. Indeed, disclosure requirements are either currently mandatory or phasing in across the EU, the UK, and Japan, and are proposed in both the US and China.
At the same time, the more voluntary mobilisation, orchestration, and standardisation efforts that characterise the current net zero ecosystem can play an important role by forging leadership coalitions that build support for stronger regulations in the future.
When considering net zero purely from a quantity perspective, there is no question that enormous climate supertanker is turning. Yet the lack of credible, quality targets raises serious doubts of if that turn can be sustained. At the moment, it's not looking good.