Published ahead of the final phase of the Global Stocktake, the State of Climate Action 2023 offers a roadmap that the world can follow to avoid increasingly dangerous and irreversible climate impacts, while minimizing harms to biodiversity and food security. It translates the Paris Agreement's 1.5°C temperature limit into 2030 and 2050 targets across sectors that account for roughly 85% of global GHG emissions — power, buildings, industry, transport, forests and land, food and agriculture — as well as those focused on the scale-up of technological carbon removal and climate finance. The report then assesses collective global progress and highlights where action must urgently accelerate this decade to limit warming to 1.5°C.
The State of Climate Action 2023 finds that global efforts to limit warming to 1.5°C are failing across the board, with recent progress made on every indicator — except electric passenger car sales — lagging significantly behind the pace and scale that is necessary to address the climate crisis.
Key findings:
This year's State of Climate Action finds that progress made in closing the global gap in climate action remains woefully inadequate — 41 of 42 indicators assessed are not on track to achieve their 2030 targets. Progress for more than half of these indicators remains well off track, such that recent efforts must accelerate at least twofold this decade. Worse still, another six indicators are heading in the wrong direction entirely.
Within this set of laggards, efforts to end public financing for fossil fuels, dramatically reduce deforestation and expand carbon pricing systems experienced the most significant setbacks to progress in a single year, relative to recent trends. In 2021, for example, public financing for fossil fuels increased sharply, with government subsidies, specifically, nearly doubling from 2020 to reach the highest levels seen in almost a decade. And in 2022, deforestation increased slightly to 5.8 million hectares (Mha) worldwide, losing an area of forests greater than the size of Croatia in a single year.
But amid such bad news, several bright spots underscore the possibility of rapid change. Over the past five years, the share of electric vehicles in passenger car sales has grown exponentially at an average annual rate of 65% — up from 1.6% of sales in 2018 to 10% of sales in 2022. For the first time in this report series, such progress puts this indicator on track for 2030.
Global efforts are heading in the right direction at a promising, albeit still insufficient, pace for another six indicators, and with the right support, some could soon experience exponential changes. And among all indicators heading in the right direction, those focused on increasing mandatory corporate climate risk disclosure, sales of electric trucks and the share of EVs in the passenger car fleet saw the most significant gains in a single year, relative to recent trends.
Still, an enormous acceleration in effort will be required across all sectors to get on track for 2030. For example, the world needs to:
Dramatically increase growth in solar and wind power. The share of these two technologies in electricity generation has grown by an annual average of 14 percent in recent years, but this needs to reach 24 percent to get on track for 2030.
Phase out coal in electricity generation seven times faster than current rates. This is equivalent to retiring roughly 240 average-sized coal-fired power plants each year through 2030. Though continued build-out of coal-fired power will increase the number of plants that need to be shuttered in the coming years.
Expand the coverage of rapid transit infrastructure six times faster. This is equivalent to constructing public transit systems roughly three times the size of New York City's network of subway rails, bus lanes and light-rail tracks each year throughout this decade.
The annual rate of deforestation — equivalent to deforesting 15 football (soccer) fields per minute in 2022 — needs to be reduced four times faster over this decade.
Shift to healthier, more sustainable diets eight times faster by lowering per capita consumption of meat from cows, goats and sheep to approximately two servings per week or less across high-consuming regions (the Americas, Europe and Oceania) by 2030. This shift does not require reducing consumption for populations who already consume below this target level, especially in low-income countries where modest increases in consumption can boost nutrition.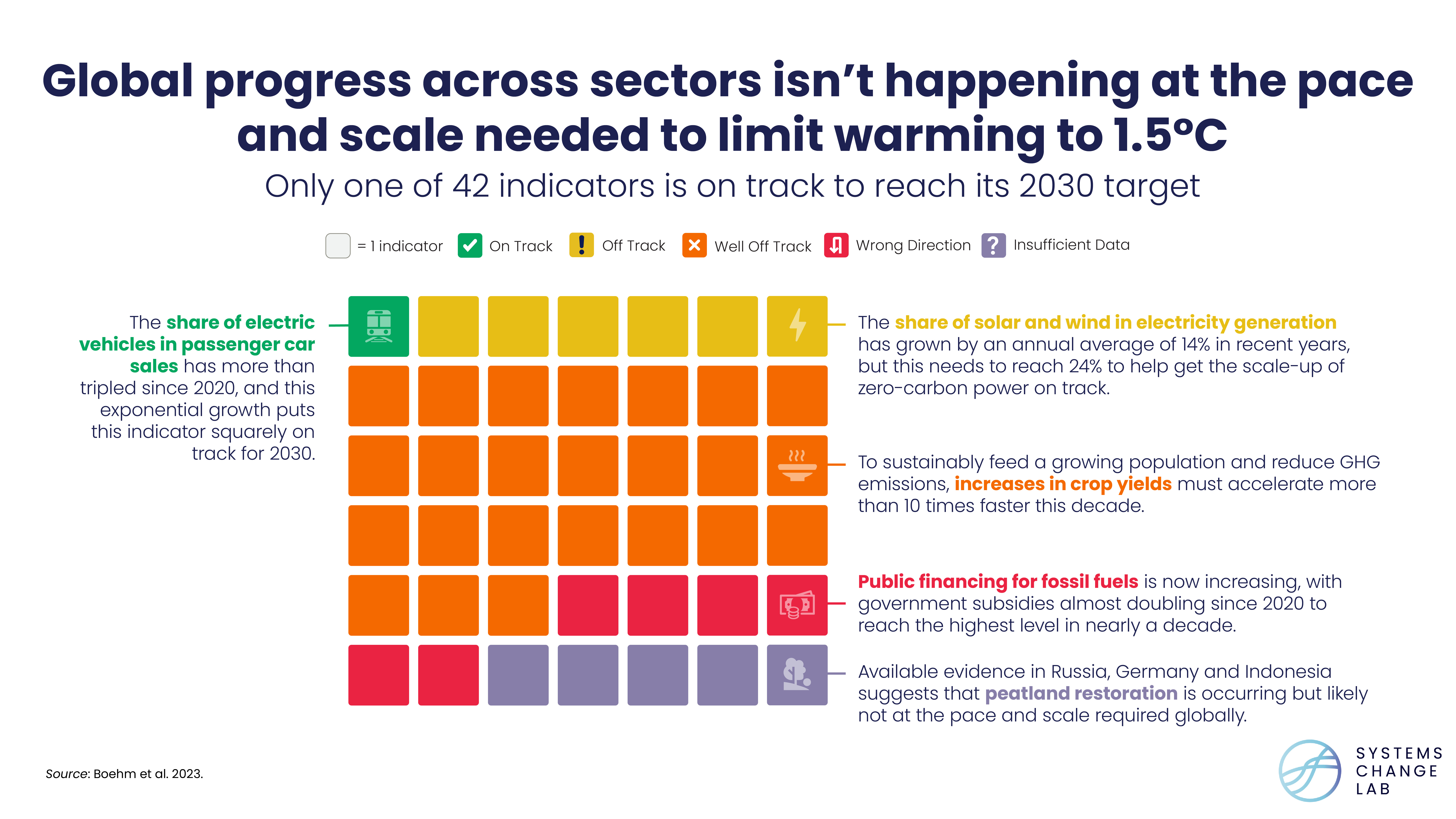 How to cite this report: Published under Systems Change Lab, this report is a joint effort between the Bezos Earth Fund, Climate Action Tracker (a project of Climate Analytics and NewClimate Institute), ClimateWorks Foundation, the UN Climate Change High-Level Champions and World Resources Institute.
*Please do not attribute the State of Climate Action 2023 to a single organization.