The European Green Deal shifted climate to a central pillar of the European political agenda. It sets out the ambition to be a climate leader and mainstream climate into all channels of foreign policy. 
Four key elements are important for ambitious climate diplomacy:   
A clear overall common vision aligned with the Paris Agreement to provide the broad brushstrokes of the government's agenda and guide policymaking;   

Strong governance with clear institutional mandates, and coordination structures;  

Impactful international engagement with international partners and multilateral processes; and   

Ambitious efforts at home in order to lead by example.  
Taking these elements into account, the EU sets a high standard in some respects, but still needs to translate announcements into widespread action. There is potential for improvement to better integrate climate into foreign policy and strengthen the coordination and coherence of climate diplomacy.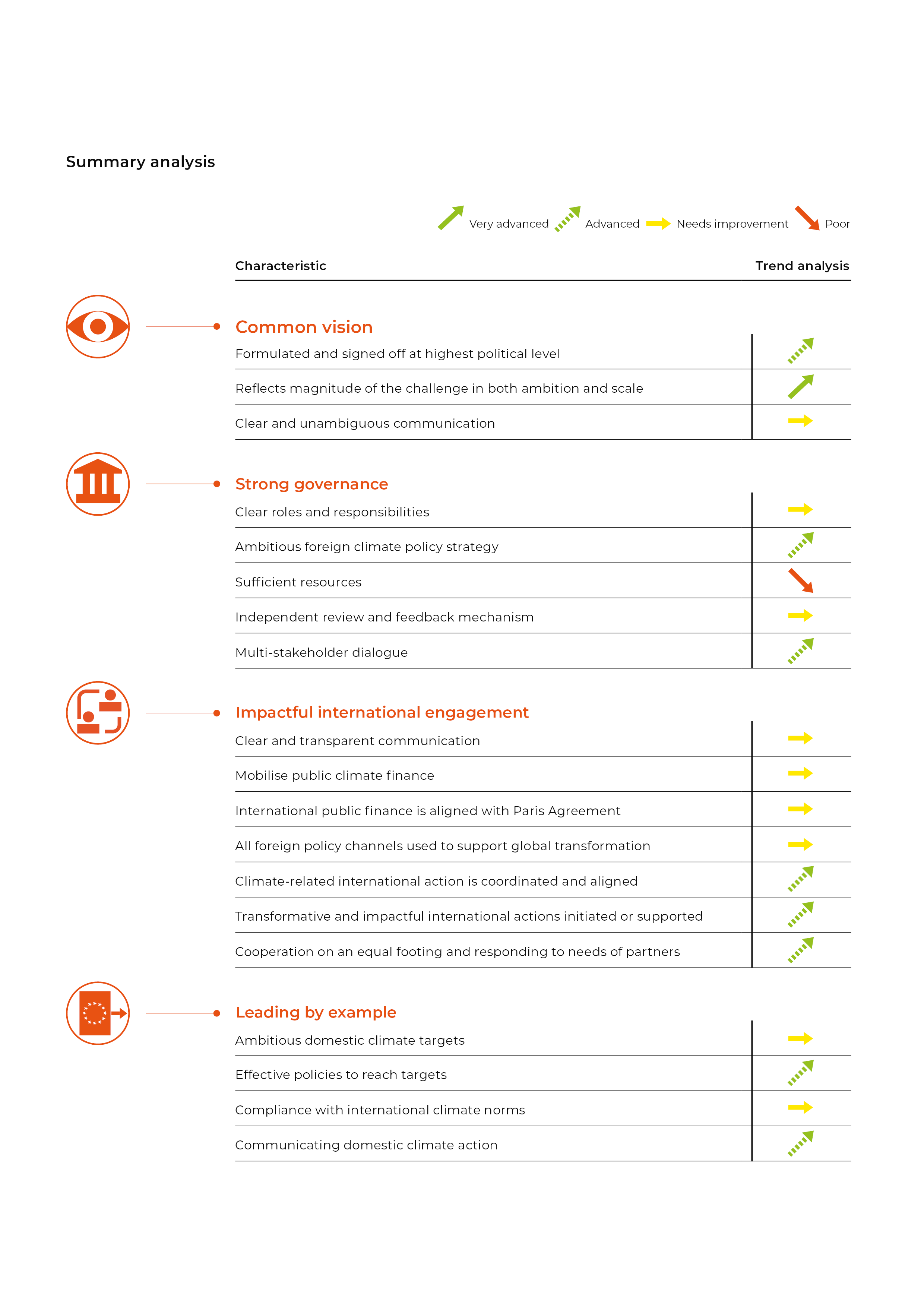 The report draws on array of academic literature, government documents, extensive interviews and an in-person workshop bringing various civil servants and stakeholders together. The following key recommendations could help enhance the EU's role as a global climate leader and better mainstream climate into all foreign policy channels:
The foundation of EU climate diplomacy has historically rested on its role as a climate leader; therefore, it should solidify its credibility to leading by example. Recently, some international observers have criticised the EU as hypocritical, notably in the wake of the energy crisis unleashed by the Russian invasion of Ukraine and what has been characterised as a European "dash for gas" provisions in the RePowerEU, which has seen large amounts of public funds poured into future stranded gas infrastructure. To not lose credibility as a global leader in climate action and the resulting diplomatic soft power that the EU has built up, the EU should increase its climate ambition and commit to strengthen climate norms and ensure it does not undermine its decarbonisation goals by adopting misaligned contingency measures and diversification strategies.
The EU should incorporate climate change considerations into all aspects of its foreign policy decision-making process by institutionalising climate mainstreaming. Climate is a cross cutting issue that requires a comprehensive and coordinated approach that involves leadership, resources, and processes. It means creating institutional structures and procedures within the EU's foreign policy apparatus that ensure that climate change is a central consideration and not an afterthought. To implement a comprehensive approach to climate diplomacy in the EU's key foreign policy bodies, it will be key to anchor climate in the priorities of high-level leadership, to climate-proof foreign policy through capacities and adequate resources, and to improve coordination and alignment.
To successfully implement the international dimension of the Green Deal, the EU should adopt a more holistic and strategic approach by advancing from technical to (geo) political climate diplomacy. Therefore, the EU should advance its climate diplomacy efforts from the current primarily technical approach, focused to a large extent on UNFCCC negotiations, to a more holistic and geopolitical approach by integrating climate considerations into all relevant foreign policy channels, such as those related to finance and investment, international trade, foreign security, and industrial policy.
Strengthening and expanding the Team Europe approach to facilitate closer collaboration between EU institutions and Member States is crucial to a more coordinated and effective foreign climate policy. This includes sharing of best practices, aligning priorities and strategies, and pooling resources to achieve common goals. It also involves engaging with international partners and civil society in a coordinated manner, to build partnerships and alliances for advancing the global climate agenda. To strengthen the Team Europe approach and thus ultimately enhance the EU's influence and leadership in shaping global climate action, it will be key to develop a common high-level and long-term foreign climate policy vision between EU institutions and Member States.