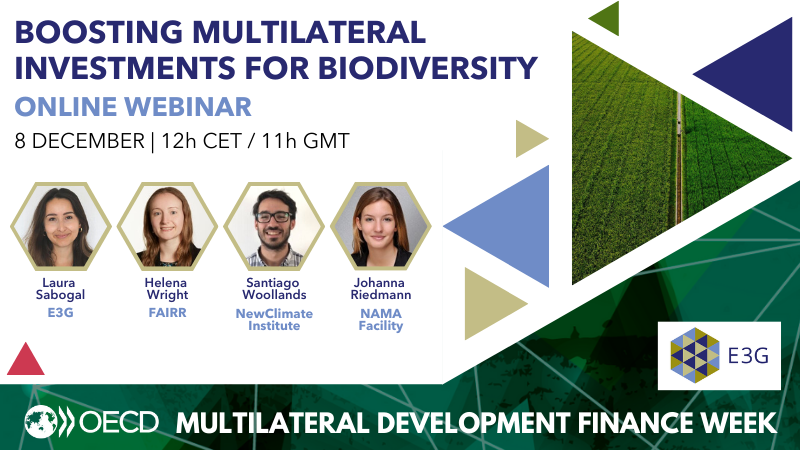 In the framework of the OECD Multilateral Development Finance Week 2022, NewClimate joined E3G's event on boosting multilateral investments for biodiversity. In particular, the event looked at biodiversity and land-use finance and the challenges associated with it.
The event was an opportunity to discuss some of the following questions:
What is the role of biodiversity and land-use finance in the climate crisis and the over-arching polycrisis?  
What is the role of public finance in the mainstreaming of biodiversity and land-use considerations to prevent the lock-in of emissions and avoiding climate risk?
What are the challenges associated to the deployment of land use and biodiversity finance? 
What does a mode of biodiversity finance and land-use finance that is both scalable and aligned with the Paris Agreement look like? 
Speakers:
Moderator: Laura Sabogal – Policy Advisor for E3G's Public Banks team.
Santiago Woollands – Climate and Energy Policy Analyst at NewClimate Institute.
Dr. Helena Wright – Policy Director at FAIRR Initiative; Policy Director at Coller Foundation.
Johanna Riedmann – Advisor for LULUCF/mitigation/climate finance at the Mitigation Action Facility – GIZ.